Institutional Framework
Institutional set-up as per Ne.G.P. Framework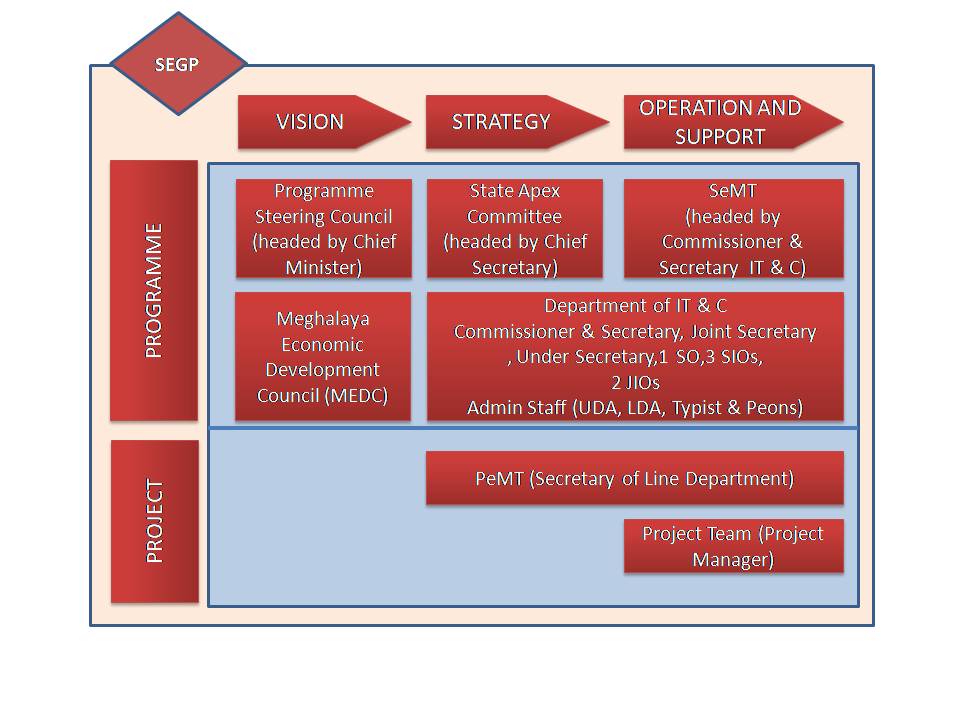 To conceptualize and implement e-Governance projects under National e-Governance Plan (NeGP), it is essential for a State Government to have suitable and dedicated teams both at the Programme and Project level. The above diagram gives a schematic representation of the institutional structure envisioned under the State e-Governance Plan (SeGP) in Meghalaya.
At the Programme level, there exists the Programme Steering Council headed by the Chief Minister, the State Apex Committee headed by the Chief Secretary and the State e-Governance Mission Team (SeMT) headed by the Commissioner & Secretary, IT&C Department.
At the project level, each Department will will have its own Project e-Governance Mission Team (PeMT) which would take ownership of all e-Governance activities happening within that Department.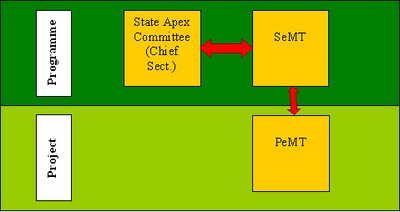 The State e-Governance Mission Team (SeMT) formed by the Government of Meghalaya is working as a full time dedicated agency at a "program level" and assisting the State Government in providing an overall direction, standardization and consistency through program management of e-Governance initiatives.
SeMT is also currently assisting various MMP Departments in their respective e-Governance and Capacity Building initiatives. The nature of this assistance includes providing help in the writing of DPRs, training programmes for Departmental personnel, assistance in formation of PeMTs (Project e-Governance Mission Teams) and so on.
Under NeGP, each department is also supposed to set up a dedicated Project eGovernance Mission Team (PeMT) to drive the projects at the department level. Some of the Departments have already formed their PeMTs. It is envisioned that once the individual Departments reach the requisite level of maturity, the role of the SeMT in the Departmental projects would decrease and it would function more as an adviser and overseer.