Meghalaya State Wide Area Network
Background
The SWAN Scheme for 29 States & 6 Union Territories was approved by Govt. of India in March 2005. SWAN interconnects each State/UT Head Quarter with District Head Quarter and below each District Head Quarter with the Block Head Quarters with minimum 2 Mbps leased line. The objective of the scheme is to create a secure close user group (CUG) Government network for the purpose of delivering G2G and G2C services. The SWAN acts as the backbone for effective communications providing a converged network that allows not only better information exchange between various government departments but also improves the delivery of citizen services.
MSWAN (Meghalaya State Wide Area Network) was launched on the 17th of August, 2011, by the Honorable Chief Minister of Meghalaya, Dr. Mukul Sangma in the presence of Shri A.L. Hek, IT Minister and Shri. W.M.S. Pariat, Chief Secretary, to support the various e-Governance initiatives being planned by the State as well as the Central Government. The MSWAN has been implemented on Build-Own-Operate and Transfer (BOOT) model, spread over a period of five years to provide Data, Voice and Video services to various offices of the Government of Meghalaya (GoM) and other locations as identified by GOM. It has been designed to establish a reliable horizontal and vertical communication corridor. The Meghalaya Information Technology (MITS) had been nominated by the Information Technology Department, GOM, as the nodal agency for setting up and operating the Meghalaya State Wide Area Network (MSWAN).
Structure and Architecture
MSWAN is setup to link Government Offices at State Head Quarter, Shillong, District Head Quarter, Sub-division Headquarter and Block Headquarter with each other. Thus, 7 district headquarters, 8 sub-division headquarters and 39 block headquarters and more than 102 horizontal offices and 262 co-located offices have been connected through this network initially. A schematic diagram of the network is shown below.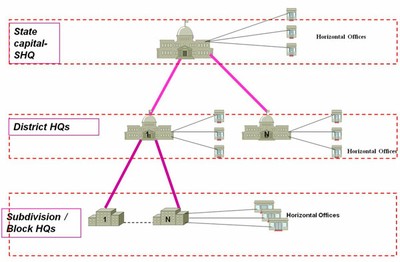 The network follows a hierarchical connectivity scheme as shown in the diagram. There are three tiers:
Tier 1 or Primary Tier, consisting of the State Head Quarter
Tier 2 or Secondary Tier consisting of the 7 District Head Quarters (As per MSWAN Architecture the other 4 new Districts are still taken as SDHQ and will be upgraded accordingly).
Tier 3 or Tertiary Tier consisting of 8 Sub Divisional and 39 Block Head Quarters
Within each tier, there are vertical and horizontal points of presence (POP) as shown in the fig. For vertical connectivity, leased links from BSNL are used wherever available and for blocks where BSNL connectivity is not available, VSAT links are used. For horizontal connectivity, a hybrid solution including leased lines, RF, OFC, etc, have been used depending on the location and best suited technology vis-a-vis cost. The proposed bandwidth requirement for each tire is shown below.
| | | |
| --- | --- | --- |
| Path | Initial | Future (Anytime) |
| SHQ to DHQ | 2 Mbps | 8 Mbps or more |
| DHQ to SDHQ / BHQ | 2 Mbps | 4 Mbps or more |
| SHQ to Remote BHQ | 512 Kbps VSAT bandwidth shared | 2 Mbps shared |
| Internet | 4 Mbps | 8 Mbps or more |
Current Status
-Taken over by Meghalaya Information Technology Society(MITS) post expiry of Contract on June 2016.
-Vertical Locations: All 55 vertical locations have been fully completed.
-Horizontal Location: Total of 102 offices has been connected and commissioned.
Now that the MSWAN has become operational, the State Government is looking to leverage the infrastructure in a big way. With the use of VC and VoIP connectivity, Government officials need not travel long distances for meetings but rather use the VC capabilities available at the Block Headquater, District and State Headquarters to easily interact and take decisions on key issues. This will not only help the State in taking informed decisions but will also make way for faster review of processes and sharing of knowledge.